Article of the day:
Copa del Rey: Barça against Rayo Vallecano in the round of 16
Date of publication: January 22, 2021 at 16:35:13 am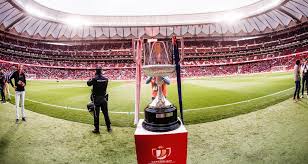 The draw for the knockout stages of the Copa del Rey took place this Friday. FC Barcelona will be opposed to a second division club.
Ronald Koeman's Blaugrana will head to Rayo Vallecano for a place in the quarter-finals. Thursday, the club of Catalonia qualified in pain in Cornella (2-0 ap), on goals from Ousmane Dembélé and Martin Braithwaite.
The matches will be played on January 26, 27 and 28 in a single match.
Source: Source: http://www.topmercato.com/232365,1/coupe-du-roi---le-barca-face-au-rayo-vallecano-en-8es.html
views: 340