Article of the day:
FOOTBALL: Champions League: QUARTER AND SEMI-FINAL DRAW
Date of publication: March 10, 2021 at 10:57:42 pm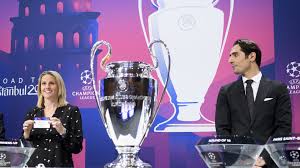 While the first qualifiers for the quarter-finals of the Champions League are being known, the future draw is already fixed.
Special feature of this draw, it will bring together the quarters but also the table for the semi-finals of the competition. This draw will take place on Friday March 19 in Nyon, Switzerland. The quarter-finals of the Champions League will take place on April 6 and 7 for the first leg and April 13 and 14 for the return. For the semi-finals, it will be April 27 and 28 and May 4 and 5 for the return trip.

Source: https://www.onzemondial.com/ligue-1/2020-2021/tirage-au-sort-quarts-et-demies-ligue-des-champions-toutes-les-infos-460941
views: 299