Article of the day:
FOOTBALL: EUROPA LEAGUE: Tottenham: Mourihno's anger after the defeat
Date of publication: March 19, 2021 at 10:18:12 pm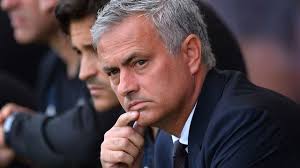 Eliminated from the Europa League after a comeback from Dinamo Zagreb, José Mourinho did not hide his frustration and anger after the meeting.
With this elimination in the Europa League this Thursday evening against Dinamo Zagreb, José Mourinho draws up a sad record in European competition since the 2014-2015 season. He has not indeed reached the quarter-finals of one of them for 6 seasons. By pointing to the 8th place in the Premier League, the future of the Portuguese tactician at Tottenham is more and more unclear. Sad and angry, the Special One paused for ten minutes at BT Sport's microphone to speak.
Source: https://www.onzemondial.com/ligue-europa/tottenham-la-colere-de-mourihno-apres-la-defaite-462601
views: 406